07.06.2014 / UK News
JJ Rhatigan & Company successfully complete extension projects on Wexford General Hospital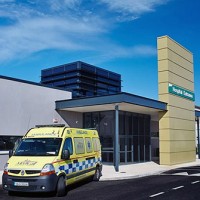 JJ Rhatigan & Company has successfully completed works on Wexford General Hospital to include an extension to the Emergency Department/Concourse and Delivery Suite, Maternity/Operating Theatre.
The  2,200m² extension to the existing emergency department connects back into the existing hospital on three floor levels. The works included the provision of 10 No. major treatment cubicles, 4No. minor treatment cubicles, resuscitation room, isolation/gynaecology/ paediatric multi-function rooms, minor ops room and other ancilliary accommodation. The main entrance and concourse was extended to form the new access point and focus to the hospital for patients, visitors and staff. The emergency building is a heavily serviced floor to facilitate the buildings requirements for resuscitation rooms, main nurses' base, sluice and storage areas, major & minor treatment, pressurized Isolation Rooms and assessment rooms along with one wing providing new offices, canteen, shop and reception areas (the Entrance Concourse).
The 2,400m² extension to the delivery suite / maternity and operating theatre department is tied back into the existing hospital with an undercroft access road as part of the structure to facilitate service/delivery yard access.  The delivery suite consists of six birthing rooms. The new operating theatre includes a proprietary self-contained operating suite, with the appropriate level of reception and recovery places. Additional staff changing and storage facilities were also completed. The Delivery Suites and Theatres are heavily serviced buildings due to their acute nature and the end use of the building, specialist areas included Operating Theatre ventilation and area pressurization, also the theatre was fitted with a specialist theatre lighting system and a video recording system with medical gases and services tied into a single monitoring control system. The delivery suites were fitted out to a very high level of finish with specialist full height fitted furniture incorporating medical gases and medical trunking for bed locations and integrated Resuscitaire Infant Warmer units.