29.05.2023 / UK projects
Topping out of One Maidenhead – marking a major milestone.
It was a beautiful day of celebration for all at JJ Rhatigan and our extended teams at the topping out of One Maidenhead, marking a major milestone for the project!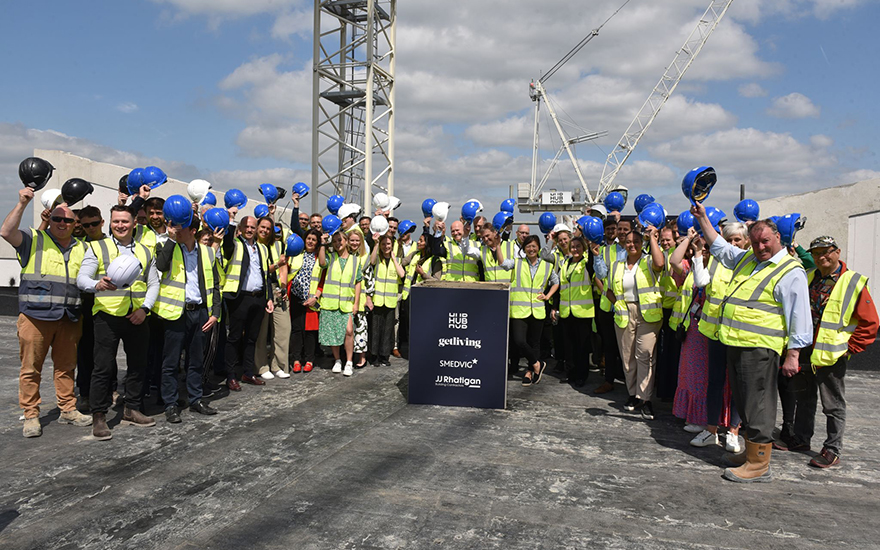 This phase is ahead of schedule in delivering 429 new homes with 23,000 sq ft of ground floor retail and a landscaped plaza. This incredible residential-led scheme will offer quality, energy-efficient homes to rent and this up-and-coming area will become a new focal point and oasis for the local community. It is set to welcome its first residents in 2024!  
The delivery of this site reflects JJR's five pillars of success which centre around safety, programme, quality and environmental, budget and collaborative relationships. Relationships are at the core of every project and One Maidenhead is no exception. 
Speaking at the topping out ceremony, Ger Ronayne, CEO of JJ Rhatigan & Company said: "We always say our people are our greatest assets. A particular word of thanks to Brian Kelly, Matt Baglow and Tom Neylon, who understand that delivery is about more than building, and their work with the local community of Maidenhead has been an exemplar. 
Seeing so many of our valued supply chain at the ceremony Ger noted that . ''We work hard to find and reward the right partners to support us in the delivery of our projects – we know that we are only as strong as our supply chain, their success is our success.''    
Acknowledging our strong relationship with our project partners Ger said that '' great clients deserve great contractors and so we strive to be that.  We are delighted to be working with Hub again, building upon our strong relationship – and with the team at Smedvig. 
At JJR we understand that handover is just the first step, Get Living will take this impressive development and turn each apartment into a home – and we are proud to be part of something bigger than ourselves, something so important to the people of Maidenhead." 
It was a pleasure to be joined by some of the local organisations we have been supporting in our community engagements initiatives, led by Aoife Healy, including Alexander Devine Children's Hospice Service and Maidenhead United Football Club. 
JJ Rhatigan looks forward to all our future successful projects together!