06.11.2023 / Press Release
JJ Rhatigan: A Committed Approach to Critical Risk
EMMET HYNES, Health & Safety Director of Construction Safety Month 2023 Gold Sponsor, JJ Rhatigan, demonstrates a whole-of-team, committed approach towards critical risk on site.
As long-time supporters of the CIF's annual and ongoing health and safety initiatives, JJ Rhatigan is proud to be a Gold sponsor of this year's Construction Safety Month 2023. As Health & Safety Director, I welcome this year's theme of 'Focus on Critical Risk'. This approach allows each contractor, and indeed each site team, to objectively assess the critical risks unique to a project based on the dynamics of that site, including project type, size, stage, location and level of complexity. Through this narrow, site-specific, lens, teams can better articulate the critical risks and identify opportunities for further team training throughout Construction Safety Month, in a more targeted way.
For example, on our E3 Learning Foundry project on the grounds of Historic Trinity College Dublin, we have identified many site-specific critical risks. One of the foremost points of safety consideration is the tower crane, specifically the lifting and slinging operations on site given this is a tight, urban site, with two tower cranes working in close proximity. As a result, we have a close proximity Risk Assessment Method Statement, or RAMS, to support our Appointed Persons, lift supervisors and crane coordinators working on the ground with our Slinger/Signallers, ensuring appropriate exclusion zones with clear paths for all lifts.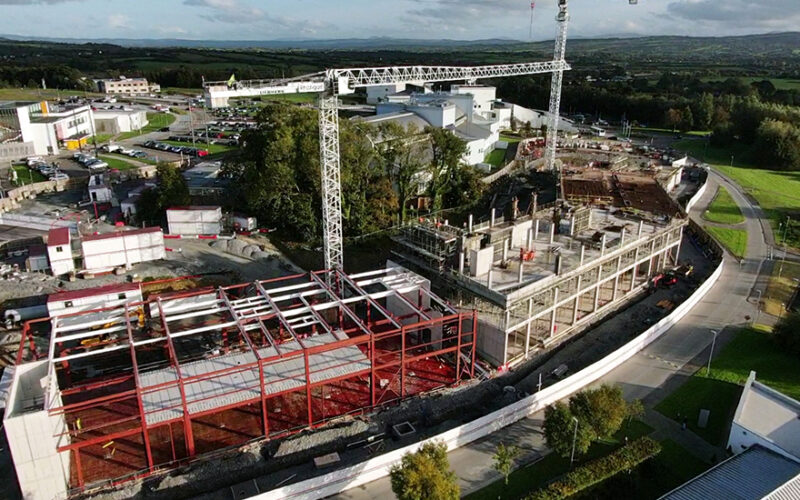 Higher Education Bundle 1, Munster Technological University, Kerry.
The Trinity College Dublin campus is an iconic site, and presents a level of high level of complexity for health and safety coordination that is aided by our knowledge of the campus, having delivered the seven-storey, 12,000m2 Trinity Business School in 2019, and the strong relationship of trust built up with the client over successive projects.
The JJ Rhatigan team is also involved in the delivery of Ireland's Higher Education PPP Bundle 1 (HEB1) project, delivering six new buildings at IADT and Technological University campuses in Tallaght, Blanchardstown, Tralee, Athlone and Cork, with a full time Health and Safety Advisor on individual sites.
"We have a shared commitment to ensure every team member returns home safe to their families at the end of every day"
As Health & Safety Director, I would like to thank our Health and Safety Advisors, and Site Management teams, who organised and implemented the different programmes and initiatives that have taken place on sites across Ireland in recent weeks. While Construction Safety Month is a valuable opportunity to shine a light on the critical risks inherent in the industry, safety is an everyday priority for our team and, with the expert guidance of our Health and Safety Advisors, safety is everyone's responsibility. This is the single most important key to safety success – we have a shared commitment to ensure every team member returns home safe to their families at the end of every day. We are particularly grateful to our supply chain for getting involved in demonstrations, which included a virtual reality simulation of tower crane operations by O'Reilly Training, along with a host of toolbox talks, demonstrations and sessions on healthy eating, positive mental health, working at heights, critical risks associated with excavation works, and so much more.
Thank you to everyone for getting involved and making Construction Safety Week 2023 a huge success.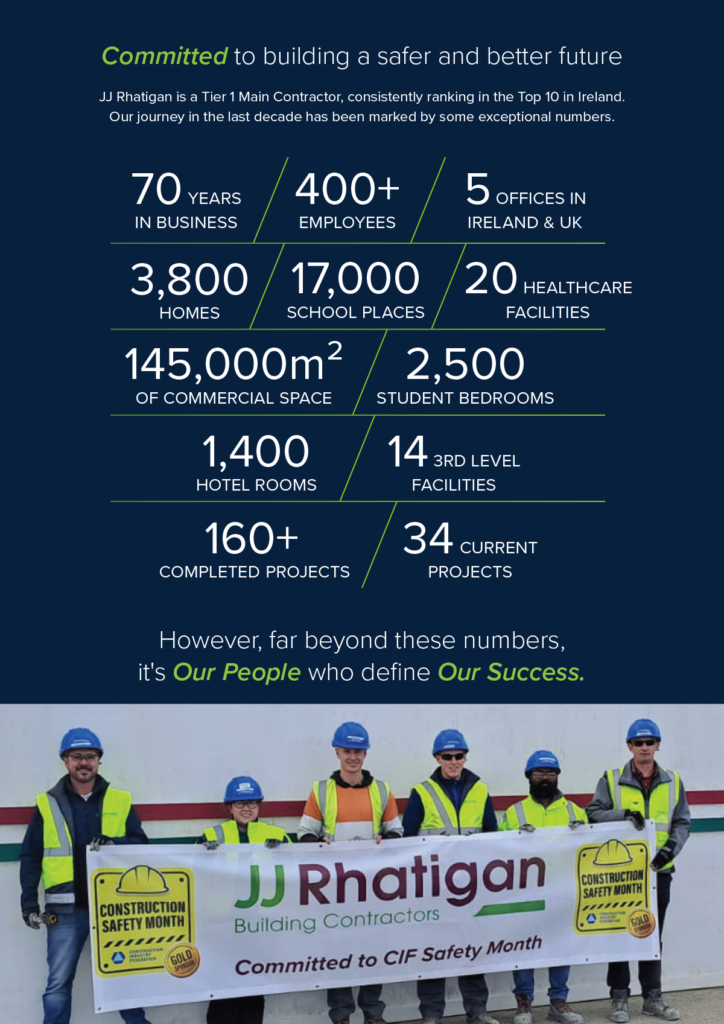 Originally published in Construction Magazine Oct/Nov 2023 CIF Construction Magazine October | November 2023 by iQuest Ltd – Flipsnack page 26-27