26.01.2022 / Main Category
924 bed Student Residences recently completed as Phase 1 of UCD Masterplan
Three separate multi-storey buildings, two of which are student accommodation blocks and the third student centre building with accommodation overhead have recently been developed on the UCD campus by JJ Rhatigan & Company.  Set within a live university campus environment, the development was built as part of Phase 1 of the UCD Residential Masterplan and provides 924 bed spaces of traditional student accommodation over an area of .
BIM had a huge part to play in this project and BIM 360 was used as the common data environment to digitally house all project documentation including drawings, specifications, schedules, reports, technical submittals etc.  JJ Rhatigan engineers used iPads to digitally complete set Pro-forma check-sheets with accompanying photographs and identify issues on-site, pinning them to exact locations.  BIM 360 Glue was the cloud-based platform used to house the digital project federated model. This platform allowed all contractor, design team, and subcontractor team members to view the most up-to-date coordinated models in real-time on desktop or mobile devices and BIM 360 Ops was used to maintain the asset in the operational stage as part of our Digital Twin strategy. BIM was fundamental to the handover process upon completion of the project and was one of the real success stories of this project due to the implications COVID-19 had on the process. In summary BIM provided improvements in programme, buildability, sustainability, change control and crucially Client satisfaction.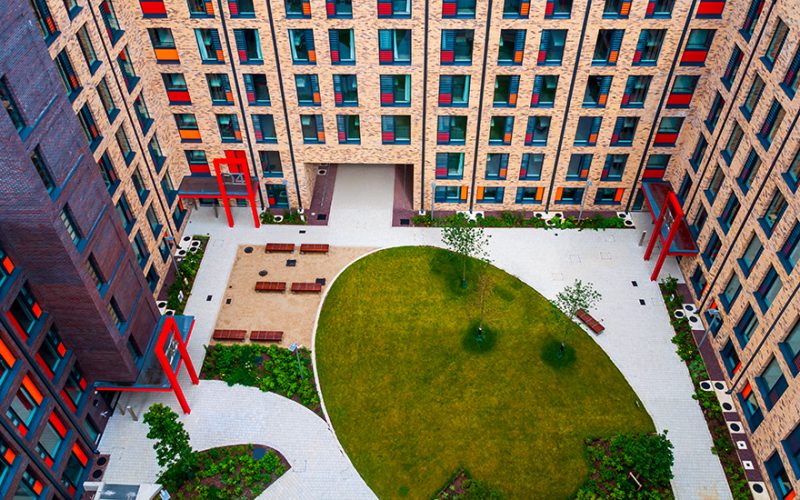 One of the challenges that came with this project was that it was to be built in an area that resembled a small city of 40,000 students.  Surrounded by student accommodation and residential areas, communication with the general public and the university was crucial.  A community liaison officer was appointed during this project to inform the surrounding community of the project's plans and also importantly to give them a voice to raise certain issues which may have affected them during the project.  As the project was in the busy area of a university campus other precautions were taken such as securing the site, illuminating student walkways and banning all construction travel through the neighbouring residential areas when possible.  Other challenges included the fact that three buildings were being built at the same time, a management team for each building was put together with weekly coordination meetings to share lessons learned, review programmes and discuss best construction practices.  During the project we also worked closely with Virgin Media to divert a main fibre optic trunk cable which is the backbone of the telecommunications system on the South Dublin campus and surrounding areas.
Sustainability and the environment are key topics for us when developing a new project.  The three new buildings had to be constructed in full compliance with the planning condition which included the retention of a 200-year-old lime tree and the accommodation of its root system.  On-site measures were taken into consideration to address issues concerning climate crisis, pollution and waster were minimised during construction with the use of Modern methods of Construction (MMC).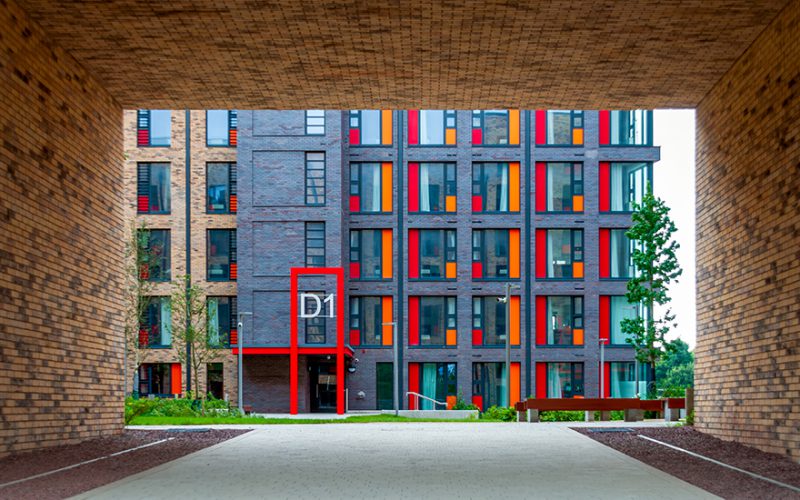 As with all projects being procured under the Higher Education PPP, the sustainability of the finished building was critical to UCD. By working closely with UCD we considered the life cycle costing of the residences and used numerous alternate technologies including district heating, heat pumps, photovoltaic panels and rainwater harvesting system.  All these factors helped the buildings receive an A BER energy rating.
A critical element of the success of this project has been smart procurement, value engineering and our enduring supply chain relationship. Our 15 year and 14 project history with UCD also helped us greatly, previous work we have done for the university include student accommodation in Belgrove, Roebuck and Merville.  The overriding major success for this project was that it provided just under 1000 beds in time for the start of the university year.  The three spectacular buildings designed by Reddy Architecture & Urbanism came in at a cost of €100+ m and results in being the largest single contributor to available and quality accommodation for the Dublin student population.