07.04.2022 / UK News
We are thrilled to be a finalist in multiple categories for the Irish Construction Excellence Awards 2022
It's all down to the great teamwork within our own Project Teams and the strong collaboration with our Clients and Design Teams.
The winners will be revealed at the Gala Awards event in the Convention Centre in Dublin on May 14th, so fingers crossed we do well on the night!
See below our ICE Awards 2022 shortlisted projects!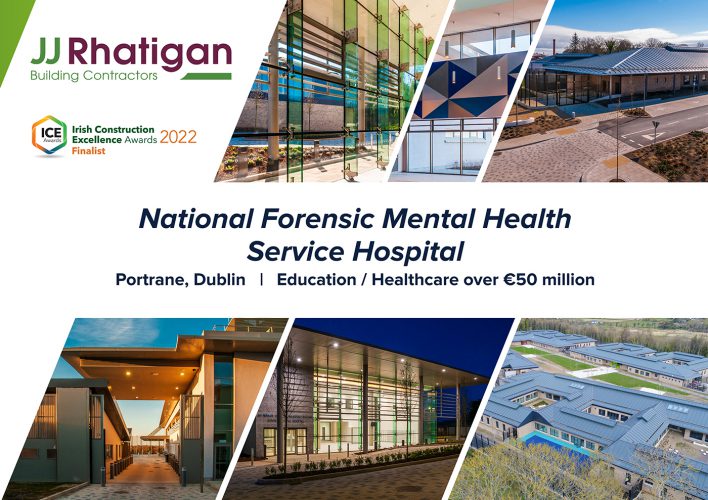 This landmark project for the HSE involved the construction of a 170-bed Mental Health Service Hospital, to include 13 hospital wards, a primary healthcare centre and administrative complex on the grounds of St. Ita's Hospital, Portrane.
Highly challenging, this project delivered on the Client's rigorous works requirements, including very bespoke elements such as Prescribe Testing Regime and Anti Ligature / Anti Vandal requirements.  The project was delivered to an excellent standard over a four-year period.
At its peak there were over 600 pairs of boots on the ground with the project requiring over 250 supply chain members/sub-contractors to complete the works. The co-ordination of all team members including the client and their design team, the end user, our in-house management team and the sub-contractors was an enormous challenge even before we had the impact of the pandemic.
The Client deemed the project to be essential and required an emergency, temporary handover of seven of the patient buildings to assist with their response to the pandemic. JJR when working on the St. Ita's Hospital campus, gave the utmost consideration to their direct and indirect impact on campus neighbours, local community and members of the public.
BREEAM Very Good was specified however through working together with the Client and their Design Team BREEAM Excellence was achieved demonstrating 'Construction Excellence' on the National Forensic Mental Health Service Hospital project.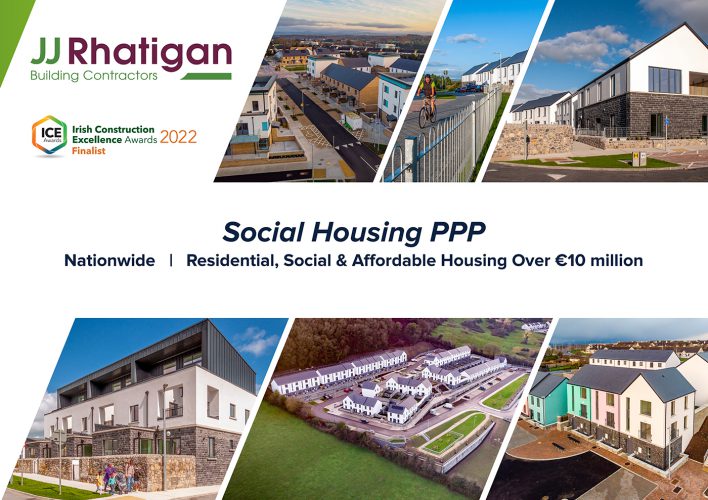 Announced by the Minister for Public Expenditure and Reform in Budget 2015, this project is the second phase of the Government's PPP programme planned to invest €300million in social housing with the development of up to 1,500 housing units as a number of 'bundles' of sites.
This phase of this PPP programme consisted of 465 residential units ranging from semi-detached homes to detached and small blocks of apartments. The new homes are located nationwide in eight locations: Cork, Waterford, Shannon, Galway, Roscommon and Kildare.
The Torc Housing Partnership Consortium includes Equitix Ltd / Kajima Partnerships Ltd, JJ Rhatigan / OHL, Derwent FM and Tuath Housing Association.  Together with OHL, JJ Rhatigan & Company were appointed as the "Works Co" and tasked with the construction of the units over a contract programme duration of eighteen months.
Green Design principles on the project included monitoring of life-cycle costs, water usage, air quality through controlled background ventilation, use of low emissivity materials and landscaping to include tree planting for absorption of CO2 and carbon monoxide. The design philosophy for each site was to reduce whole life operational costs and CO2 emissions, which in turn helped the tenants with lower utility costs and delivers a positive local and global environmental impact.
All Social Housing Bundle 2 homes are NZEB compliant and achieved Building Energy Ratings from A3 to A2, with the majority of homes receiving an A2.
The major benefits we achieved by implementing Offsite Manufacturing techniques were precision engineering, quality, predictability, speed of construction and reduced risk in terms of Health and safety.
We are very proud to have been involved in the delivery of this significant Social Housing initiative, ensuring that all of the homes were available for occupation in time for Christmas 2021.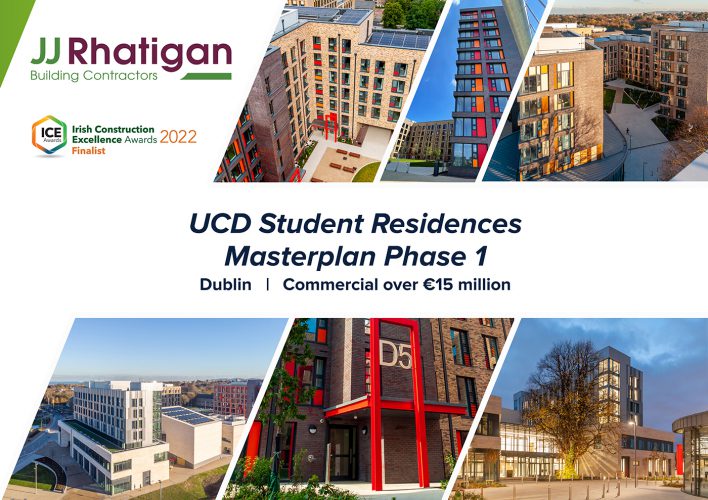 The University College Dublin Village project was truly unique, from working in a live student environment to working through multiple lockdowns, the project presents a diverse and significant set of challenges.  As the main contractor, JJ Rhatigan & Company were able to overcome these challenges and ensure the project be delivered on budget and in time for the new college semester.
Phase 1 of the UCD Residential Masterplan consists of the construction of 3 new separate buildings; comprising 2 student accommodation blocks and a student centre building with accommodation over, set within a live university campus environment, with access routes maintained for students, staff and the public. The development provides 924 bed spaces of traditional student accommodation, residence halls and studio apartments. We have excellent working relationships with our client, UCD, our project design partners, subcontractors and suppliers copper-fastened over the years having completed 14 projects on this campus in the past 15 years.
The major success for this project was that it provided just under 1000 beds in time for the start of the university year, while overcoming the challenges of Covid 19 to do this, thus resulting in being the largest single contributor to available and quality accommodation for the Dublin student population.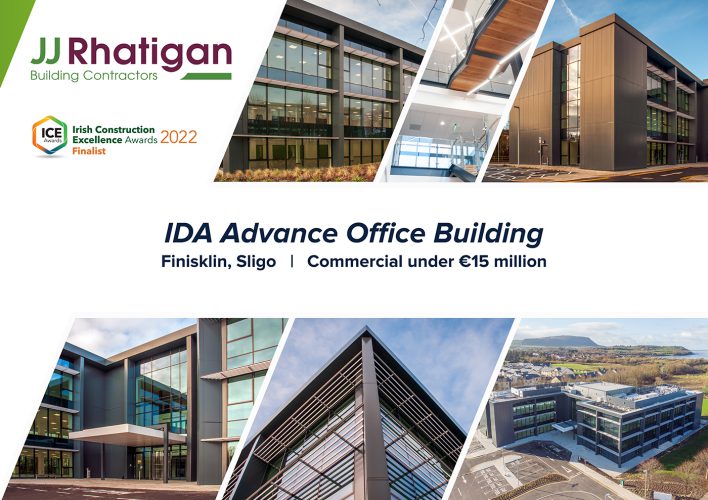 The IDA Advance Office Building was a unique project and a complete joy to work on. Along with our wealth of experience, our relationship with IDA Ireland helped us deliver this building ahead of time and on budget.
The Finisklin IDA Industrial Park is located just 1.8km from Sligo Town Centre and adjacent to the National Roads N4 (Dublin- Sligo) and N16 (Sligo – Fermanagh). The latest addition to the Park is the new Advance Office Building; an impressive three storey detached office building extending to a total of 4,465 sq.m.
This building achieved LEED certification. The facility offers e-car spaces, bike storage and electrical charge points whilst the building itself is equipped with solar panels, Photovoltaic cells and Thermal panels.  The project was also undertaken with environmental caution as the retention of two mature trees were mandatory in the client's brief.
It has been delivered to provide open plan Grade A office space in two wings over three floors linked by a central core of reception, circulation / access routes, stairs & lift and welfare facilities.
The building's flexible design, together with the site layout, allows for future expansion and subdivision, subject to necessary permissions. One of the building's most appealing features is an abundance of bright light throughout, which is facilitated by large glazed windows and skylights.
Despite the imposition of two periods of lockdown and Brexit, our project management team worked closely with the Client and their representatives to ensure that the final agreed completion dates were met and that the overall quality of the finished project was in no way affected.
The project was delivered three months early, on budget and a standard that surpassed the client's expectations.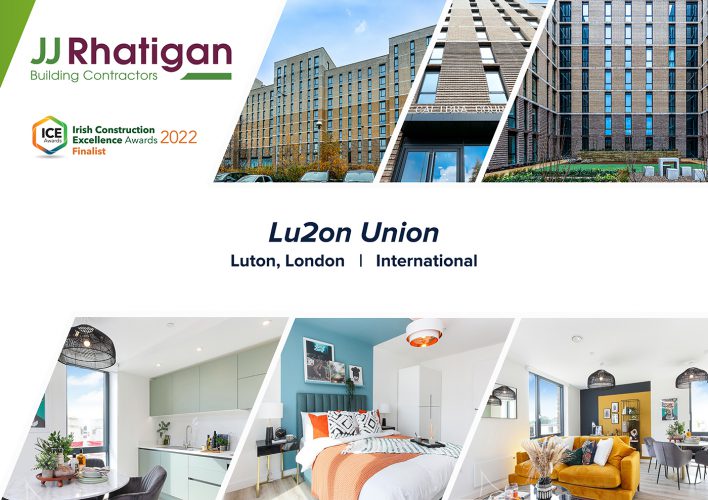 Lu2on Union, Phase 1 is a Design and Build scheme and an award-winning mixed-use development consisting of 401 new built apartments together with boutique shops, gymnasium and cafe. It forms an integral part of the regeneration of Luton, as well as contributing to the economic growth of
the town by creating a vibrant new neighbourhood.
Construction of a new mixed-use development comprising401 apartments within three RC towers on a shared podium, 5 retail units and a gym, a marketing suite, associated communal and ancillary spaces, landscaping and a carpark. Piled foundation solution, RC frame, external Metsec inner wall systems, traditional face brick incorporating glazed window façade, Electrical Mechanical heating system (future-proofing for renewable energy).
Design and Build contract 2016 Edition with amendments, completing the design from a RIBA stage 3 and obtaining full sign off from the planning conditions, building control, and that of the NHBC building insurance provider.
There was an agreed 90 calendar week construction programme. JJR received a deed of variation from Strawberry Star to suspend works from 10th April 2020 to the 28th August 2020.