24.02.2023 / Main Category
The Construction Industry: Room for Growth and Development
We're excited to share a piece in the latest issue of the Construction Industry Federation (CIF) Construction Magazine by our newly appointed Chief People Officer, Deirdre Bennett, discussing redefined impressions of the built environment and our approach to growth and development in the industry.
The construction industry has come a long way in recent years. However, it remains a male-dominated field, one struggling with the challenges of attracting a diverse range of new entrants, despite huge strides made in creating inclusive workplaces that accommodates a spectrum of individuals from different backgrounds and industries. As the construction industry evolves, it is important to redefine what people understand as a construction company. The industry is becoming more specialised, which accommodates a diverse range of people. People no longer feel daunted by the industry, as it has become more open and welcoming to all. Interestingly, the Chartered Surveyors of Ireland recently encouraged tech sector employees who lost their jobs to consider construction, highlighting that the industry is now highly tech-driven and a great opportunity for career growth.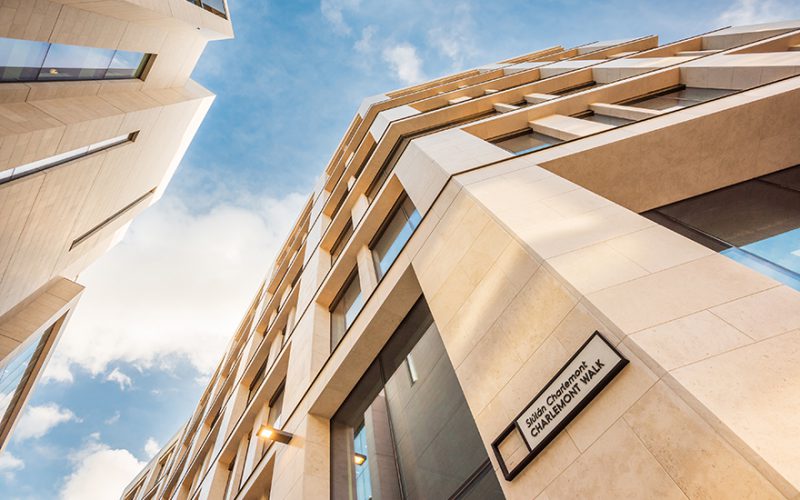 At JJ Rhatigan & Company, we have embraced this change and are proud to have a team that consists of both experienced and new members from various industries. Our focus is not only on winning tenders and delivering great places, but also on developing our people and providing clear direction for their career paths. We have established a shared vision and values, defined our competencies and objectives, and work to create a positive and inclusive culture where everyone feels valued and supported.
As the Chief People Officer of JJ Rhatigan, I believe that a strong company culture is key to success. My role includes designing and implementing processes and procedures to support the business, equipping managers with the skills they need to lead effectively, and fostering open and honest communication. I am also committed to growing our own 'home grown' talent and helping our valued employees progress in their careers as the industry evolves. Together with my team, we conduct regular engagement surveys to gather feedback from employees and will continue to use these to make meaningful changes and improve our work environment. We are progressing well with the development of a platform to help employees map out their career paths and plan their development within the organisation.
Our HR team includes a newly appointed Head of Learning and Development and will also include a Head of Talent Acquisition. Together we are bringing to life the company vision of a workplace where employees are supported in their career growth and development. This starts from the moment a new employee joins the company, where we have open and transparent conversations about their career aspirations and how we can support them in achieving their goals. We also work closely with managers to identify the ambitions of the team and the potential opportunities ahead. By creating development plans for members of the team, it ensures they are ready for future roles within the organisation as it continues to grow, roles that are reflective of the transforming industry in terms of innovation and emerging technologies.
In my role of Chief People Officer, I am proud of the commitment of JJ Rhatigan to supporting and developing our staff. Over the next 12 months, we will be investing significantly in learning and development opportunities for our employees, with the aim of retaining the talent that we have, while also making sure that new hires feel welcome and supported. We believe in the importance of a balanced approach when it comes to staffing; we value the experience and broader industry perspectives introduced into the company by professionals joining us at all stages of their career journey, while appreciating the inherent project expertise of our homegrown team. There is a "JJ Rhatigan magic" that our current team possesses and are looking for motivated individuals who will bring the same energy and drive to the company.
Would I recommend a move into construction for mid and senior level professionals?
Absolutely. As a woman in construction, I am thrilled to have taken on this new role within the C-suite of a multi-generational company with such a strong, proud legacy. Despite women being underrepresented at senior levels in the industry, I am confident that my background in financial services and manufacturing will bring fresh perspectives and ideas to the table. There are excellent opportunities for career growth and development. Throughout my own career, I have been fortunate enough to work with supportive managers who encouraged me to pursue my ambitions. I believe that effective teams are ones where everyone works towards the same goal and can openly communicate with each other. This includes questioning decisions and holding each other accountable. Communication is key in any industry and this is especially important in construction. It is essential that everyone understands their role, not just what they are doing, but why they are doing it.  Regardless of the industry, the most important thing is to make sure that people are taken care of, developed and that a positive culture is created. At JJ Rhatigan, we are committed to creating a positive and inclusive workplace where everyone feels valued and supported. We believe in growing our own talent and providing clear direction for our employees' career paths. We are looking forward to the future and the potential it holds for both our company and our employees.
Our message for the industry?
That's simple; if you are looking for a company that values its people and is dedicated to their growth and development, then JJ Rhatigan is the place for you.
Explore current opportunities at https://www.jjrhatigan.com/current-opportunities/.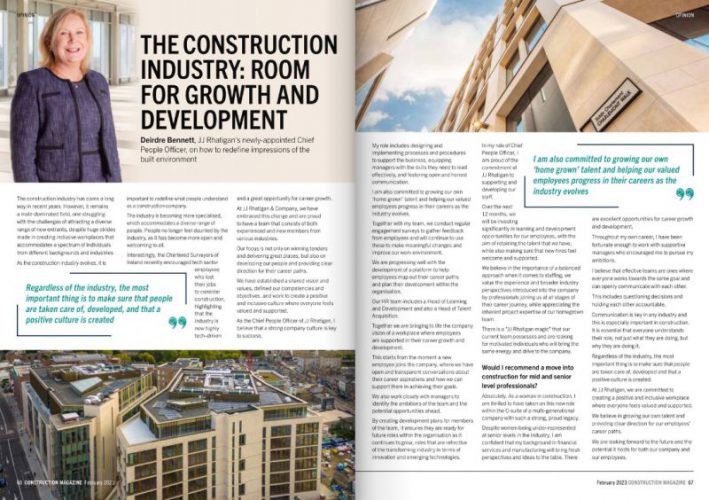 Check out the article which was originally published in the CIF Construction Magazine, P66-67 CIF Construction Magazine February 2023 by iQuest Ltd – Flipsnack