11.10.2021 / Main Category
Rhatigan Progressing at pace with Crown Square
Originally published in the Business Post on Sunday, October 10th
Work is well underway at Crown Square, creating the largest mixed-use development in Galway City. Crown Square Development Ltd., together with architects Henry J Lyons and JJ Rhatigan & Company, are in the process of creating of a memorable living and working campus for Galway.
Development progress
This campus-style development reached a number of project milestones in recent months as Phase 1 nears completion. The first 2 Office Blocks, which have a combined area of over 120,000 Sq Ft, are largely progressed following the recent installation of stone cladding and the external glazing systems.
The removal of temporary hoarding and scaffold along the Monivea Road has made way for the extensive landscaping to begin.
Interest in the office space has increased significantly over the past few months and lettings have been agreed for approx. 45,000 Sq Ft of space.  An additional 35,000 Sq Ft of space is under active negotiations with the large floor plates (15,000 – 20,000 Sq Ft) proving very attractive for tenants.
Tenants will include a mixture of international and Irish companies with the majority of enquiries coming from the Med Tech, Pharma, IT and Financial Industries as well as Statutory Bodies. It is expected that the first 2 blocks will be fully let before the end of 2021.
Works on the next phase of Crown Square have commenced and these will include the completion of 2 additional Office Blocks (totalling 120,000 Sq Ft) and a 180 bed 4-star hotel.  It is expected that phase 2 of Crown Square will be completed in 2023.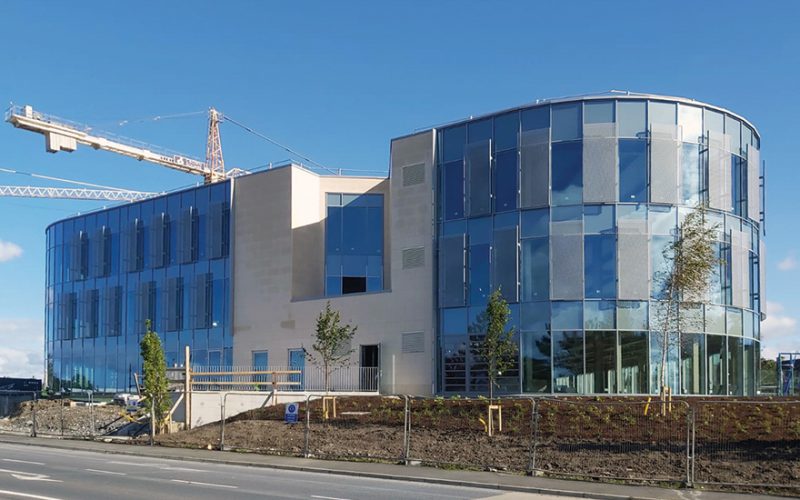 Workspace
Each sustainable office building is arranged around a landscaped plaza creating a natural public realm for all to enjoy. The buildings offer large floorplates and expansive windows to draw natural light in, motivating its occupants better than any screensaver with inspiring views of Galway Bay, Lough Atalia and Lough Corrib.  There are double height entrances, bespoke reception desks and elegant interiors to lend an air of authority for the youngest enterprises and the more well established.
The natural stone pairs effortlessly with the glazing to create comfortable interiors built for efficiency. Whether you want open plan interiors or prefer defined labs for research, each dynamic building has the flexibility that any ambitious enterprise needs.
These five office buildings, with Grade A workspace designed to accommodate a working community of over 3,000 people, offer their occupants a real presence in the creative heart of Ireland.
Residential Planning Grant
An Bord Pleanála has just granted planning for 345 'Build to Rent' residential units at Crown Square.  This will include 1, 2 and 3 bed high quality apartments with balconies overlooking Galway Bay, Lough Atalia and Lough Corrib. Public walkways and cycle routes go right to the heart of the action.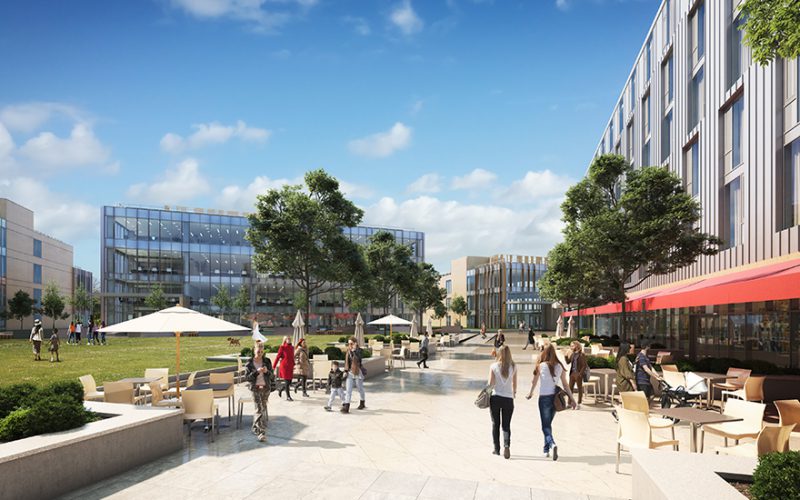 Sustainability
Crown Square is designed to minimise its environmental impact for future generations. As part of the design process, particular emphasis was placed on using sustainable energy sources without compromising on performance. Heat recovery and waste management measures give occupiers sustainable systems that monitor and control consumption, creating economical environments throughout the campus.
Neighbourhood amenities take care of work and wellbeing with a convenience store, pharmacy, medical centre, crèche, gym and business centre.  In keeping with the sustainable and wellbeing ethos, there is also provision for a dedicated cyclist/pedestrian ramp and 1,200 secure bicycle parking spaces located in the upper and lower basements and shower facilities provided in all of the office blocks for its commuter community.
There will be a variety of native trees and shrubs planted throughout the campus and this will contribute to the overall sustainability plan for the development which is designed to achieve the LEED Gold standard. Recognised around the world as the bench mark of green building standards LEED certification means healthier, more productive places, reduced stress on the environment by encouraging energy and resource-efficient buildings.
Crown Square is a registered project with the Considerate Constructors Scheme. As Considerate Constructors, JJ Rhatigan & Co is committed to caring about the project's appearance, respecting the community, protecting the environment, securing everyone's safety and valuing its workforce.
Read more about this development at crownsquare.ie