30.05.2022 / Main Category
Modern Methods of Construction with Niall Hanley
The term MMC, or modern methods of construction, has become a catch-all for non-traditional construction, however, it is best described as an approach to constructing buildings quickly, safely, and sustainably. In practice, MMC covers a broad range of systems, processes, and techniques, including but not limited to, light-gauge steel framing, timber framing techniques, and precast concrete. The priority for main contractors, particularly working on design and build contracts, is to select the right MMC system and technologies for the right project.
For example, JJ Rhatigan and Company is currently working to deliver a number of new school buildings under the Department of Education's Design and Build Contractor Framework and the MMC system of choice for these projects is precast concrete as one of the most robust solutions.
It all starts with design and planning. Building Information Modelling, or BIM, is the key tech enabler for design standardisation and whole-of-project team collaboration. It ensures the capture of real-time data, which is then used and updated throughout the planning, design and building stages. It can also support the lifetime operational performance of the building. The design standardisation allows for greater use of technologies for scaling, including 3D technology for manufacture​ and for installation. DfMA, or Design for Manufacture and Assembly, ensures designs are prepared with ease of manufacture and assembly in mind. In practice, this involves breaking down all aspects of a proposed building into prefabricated components, with both the manufacture and assembly designed and optimized by engineering teams. This allows for digital testing of structural components in advance, including panelised walls, guaranteeing the structural integrity and seamless fit of components onsite.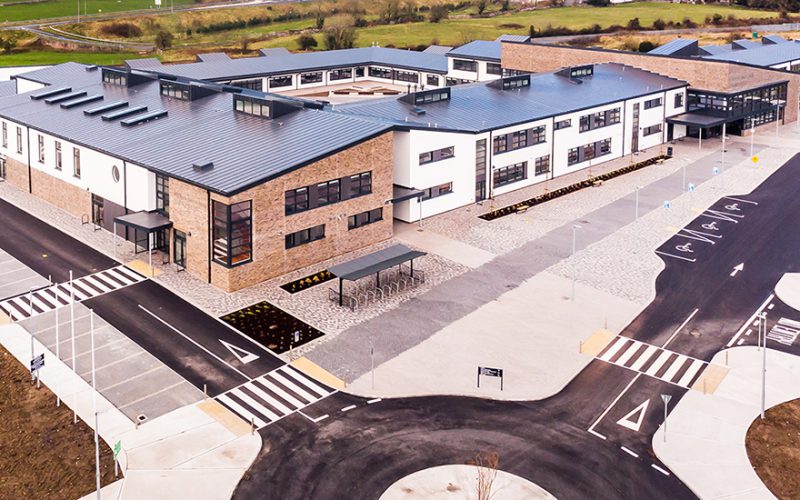 Why MMC?
JJ Rhatigan is currently involved in 21 projects across Ireland and the UK, with a combined value exceeding €1.48 billion. Certainty of programme is critical to the successful delivery of projects for our clients. Added to this, offsite and other modern methods of construction are inherently safer than traditional construction. There are many reasons for this; the manufacturing facility or factory provides for a more predictable setting than a traditional construction site, and reduces time and team numbers on site. Of course, this predictability goes beyond ensuring consistently high quality, it ensures predictability of output levels. As construction is an activity with a large number of moving parts, de-risking the supply chain is essential.
MMC provides many other benefits to projects, most notably, accelerated delivery. The time savings are achieved by improved pre-construction planning and procurement, improved collaboration, reduced labour requirements, tech-enabled clash detection, and of course the factory setting eliminates weather delays.
By way of a project example, Coláiste an Chláirín​ is a 11,500 sqm. building, designed to accommodate 1,000 secondary school students. By leveraging the advantages of MMC, JJ Rhatigan and Company reduced the estimated delivery time from 84 weeks to just 60 weeks, not including design. This level of efficiency and time savings is consistent with other design and build projects recently delivered by the JJ Rhatigan team and projects currently underway, across healthcare and mixed-use developments. More importantly, the design standardisation ensured a high level of quality, with reduced labour and other resource demands.
This project is important for a number of reasons; reducing project time from 84 to 60 weeks is certainly significant, however, it is more significant that the State leads the industry by example. In fact, a recent stakeholder engagement exercise carried out by the CIF's MMC working group found that MMC is now crucial to the future of Irish construction and that having the public sector lead by example is of key importance to the future adoption and use of MMC in Irish construction. This is something the JJ Rhatigan team welcomes. Increasing the adoption of MMC ensures growth across the sector, which ensures increased capacity…
To continue reading this article follow this link and head to page 34-35 – Breaking with Tradition