28.12.2022 / UK News
Putting the 'Social' at the heart of ESG
"Good clients demand good contractors"
Read our feature article in the December edition of the Construction Industry Federation (CIF) Magazine! Putting the 'Social' at the heart of ESG, an extremely topical discussion at this time of year.
JJ Rhatigan & Company (UK), part of JJ Rhatigan & Company, was established in 2013 as the legacy Irish contractor expanded its operations internationally. The top 10 main contractor embarked on its first project outside of Ireland at the request of an Irish client and, over the past nine years and on foot of many more secured projects, the UK side of the operation has grown to almost €100 million turnover.
While much of this growth has been attributed to repeat business, the company continues building new relationships with local developers and consultant teams. In less than a decade, JJ Rhatigan & Company (UK) has won some of the largest contracts tendered, was appointed by Strawberry Star Group to help deliver a target of 2,000 new homes by 2025, and is on no fewer than four highly-competitive UK frameworks. Also, for the second consecutive year, JJ Rhatigan recently took gold in the UK National Building & Construction Awards Project of the Year (over £25 million).
Another important feature of the JJ Rhatigan UK operations is the emphasis on strong community engagement on it's clients' projects. JJ Rhatigan (UK and Ireland) is a 'Partner' of the Considerate Constructors Scheme (CCS), which is focused on making meaningful impacts that support raising standards and build trust in the construction industry. Launched in the UK back in 1997 the CCS has been operating in Ireland since 2017. All JJ Rhatigan UK and Irish sites are registered under the scheme. Being a 'Partner' means that the team contributes to improving the scheme for all members and for the wider industry; robust and meaningful community engagement is a big part of that.
The JJ Rhatigan team in the UK describes this as initiating, building and maintaining relationships with all the stakeholders of a given project. When it comes to identifying and engaging with stakeholders, the ethos is that nobody is too important or too unimportant. Stakeholders range from site to site, but generally include local not-for-profit organisations, sporting groups and schools. The company is committed to raising awareness of the industry and to educating the next generation of industry talent about what a career in modern construction actually looks like. It also supports the work of charities in the communities in which it operates, in particular JJ Rhatigan has worked closely with Alexander Devine Children's Hospice and Maidenhead United FC since breaking ground on The Landing, Maidenhead project.
According to the team, the kind of engagement contractors can expect to see when they engage meaningfully with their communities is "overwhelmingly positive", with the public genuinely curious about developments, their progress and what this will mean for their neighbourhoods. The team recently won an award for an event through Maidenhead girls' secondary school, "Women in…", which explored the realities for women working in traditionally male-dominated industries, including football, property development and construction.
In addition to the social benefit arising, there is a commercial benefit to the company in getting this right. The external recognition gained through delivering unhindered projects and winning awards enhances the reputation of JJ Rhatigan and this is critical for winning tenders. In the UK, and in Ireland, a contractor's approach to community engagement, and specifically ESG, is increasingly a key component of prequals and tenders. New clients get to know the company through these previous success stories initially, not just for project delivery, but how the team behaves within the local community, and this directly impacts decision makers as they choose to work with the company.
In practice, good clients demand good contractors, and this is good for everyone involved. The UK team at JJ Rhatigan, supported by the Irish operation, now has a portfolio of successful projects to demonstrate the commitment to community engagement and wider social good.
Feature photo: Maidenhead girls' secondary school, "Women in…" award winning event. As well as Aoife Healy and Georgina Darley from JJ Rhatigan, the panel also included Victoria Manston and Jennifer Macro from HUB and Simone O'Brien and @Grace Scott from Maidenhead United Football Club.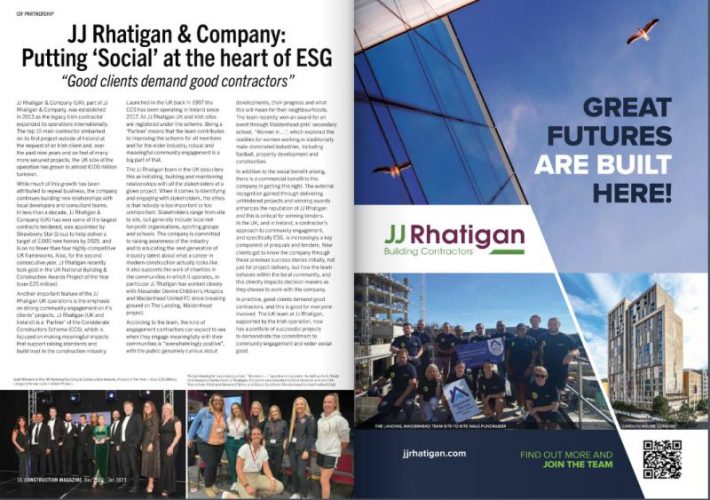 Click here to see the full article in the CIF Construction Magazine on page 16: CIF Construction Magazine December 2022 | January 2023 by iQuest Ltd – Flipsnack